(Last Updated On: October 31, 2019)
The internet puts the world at your fingertips. From laughing at your favorite shows to shuddering at the news, anything you want to access is just a click away. But that may be worrisome if you're a parent or teacher.
Children often have access to multiple devices. Make sure to project each of them by implementing parental controls. They are available on most major internet-enabled devices such as computers, smartphones and gaming systems.
Parental controls help reduce the risk of your child viewing inappropriate content on the web. In addition to setting parental controls, it's important to monitor your child's internet activity and use age-appropriate settings on devices.
What Can Parental Controls Do?
Parental controls are software or device-specific options that allow parents to monitor their child's internet use. They prevent children from accessing inappropriate or unsuitable content online. They can be implemented within your internet service provider, search engines, video streaming sites and more. Parental controls can practice the following prevention methods:
Chrome Parental Control Extensions list:-
1. Nanny For Google Chrome
Previously known as Chrome Nanny, Nanny for Google Chrome is the perfect extension for older children who have time management issues when it comes to homework. What it does is limit the amount of time your child can spend on his/her "fun" sites, and forcing them instead to focus on the work at hand. These are called "blocksets." You can specify Facebook cannot be accessed between 3 pm – 6 pm for example.
Many parents may also find this a useful extension for keeping them on-track, as it has a built-in tracker that keep tabs on where you go online and how long you spend at each site. A true blue URL-blocker extension based on the time of the day you specify, Nanny for Google Chrome is a reliable way to prevent your kids from visiting sites you disapprove.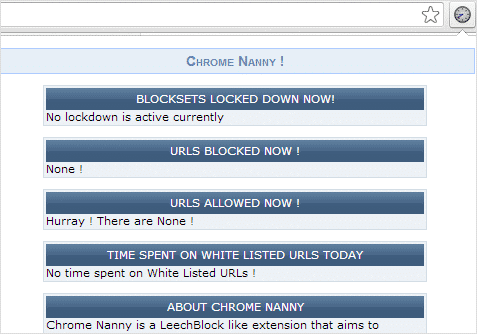 2. TinyFilter
For a simpler method of blocking online content, look no further than tinyFilter, which blocks sites not by URL, but by keywords you specify when setting it up. For example, it has a "Profanity Filter" that blocks certain profane words by default, but it can be modified to add additional words. This add-on can still block URLs that you designate, however, tinyFilter really stands out for its keyword filtering abilities.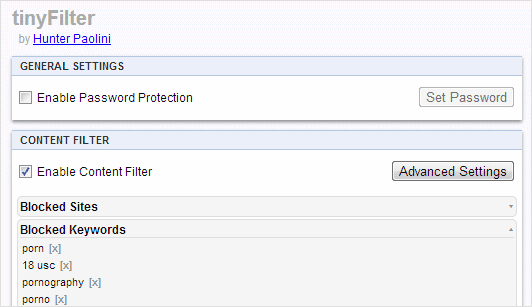 Update: This extension is not available on Chrome store. An alternative link is given below:
3. WebFilter Pro
For those with younger children, a basic yet highly effective add-on is WebFilter Pro. This extension blocks questionable material by filtering content in a cloud environment based on pre-determined categories which you from in set-up. If a site contains any info belonging in that category, it's blocked.
And these "blocking" categories cover all the important things, such as malware and fraudulent sites, adult material, abused drugs, gambling and social networking sites. Due to tinyFilter's category method of blocking, this extension is easy to use. It also has both a "Black List" and a "White List" where you can permanently block or allow certain sites.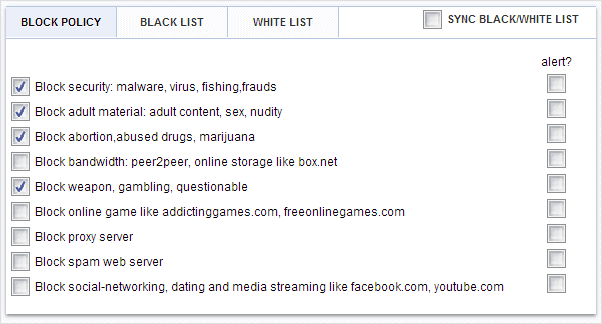 4. Website Blocker
Another parental control extension that will block specified URLs for a specific time is Website Blocker. This Is slowly becoming quite a popular app for blocking URLs, and it is in large part due to its ease of use. The warning messages that alert you can't visit a site have a sleek GUI, and will definitely get the attention of your kids.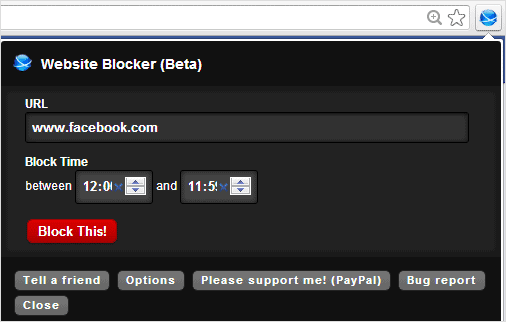 5. Blocksi
A kind of all-in-one parental extension, Blocksi does what many of the above extensions can do. It can block sites based on URLs that you input, it has a time manager and it can also filter bad content by detecting "bad" content you pre-specify. Also, Blocksi filters unwanted content via categories. The extension has 79 categories from which to block content from six main "groups," including "Adult" content, "Unethical" content and "Security Risk."

Firefox Parental Control Extensions:-
1. BlockSite
On the Firefox side of things, one of the most popular parental control add-ons is BlockSite. This add-on blocks URLs of your choice, but it also goes as far as disengaging links that go to these blocked sites just to be thorough. Blacklists and white lists are also available, which you can use to ensure the right and wrong sites are always allowed.
2. FoxFilter
This extension offers high-quality filtering at both free and premium levels. FoxFilter is a personal content filter that can block pornographic content quite impressively, as it bases its keywords and phrases on Microsoft's blocking filters. Categories are also a big part of this extension and help you remember every area to set limitations on. And when trying to find FoxFilter in Firefox, it under the main menu under "Options," not under "Extensions."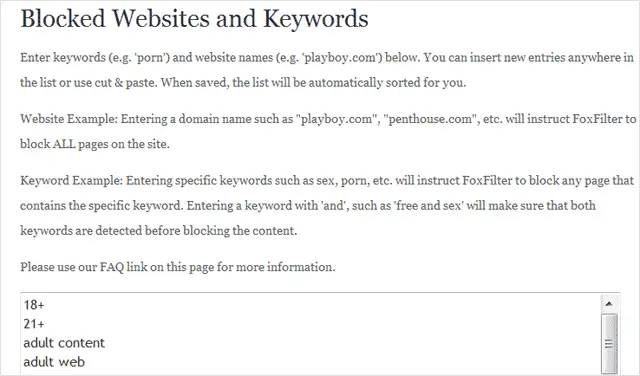 3. Anti-Porn Pro
One of the best adult material blockers out there is Anti-Porn Pro and is just the thing to put the brakes on overly curious kids. This extension offers cloud-based filtering of porn content by monitoring billion of websites and it blocks adult content by blocking categories, which are found in the cloud "Options" area, where you can block "adult material," "adult content," any sites with the word "sex," etc.

4. LeechBlock
Considered the Firefox equivalent of Nanny for Chrome, LeechBlock will block any sites you specify. All you need to do is to go in and specify which URLs you don't want your children to have access to. Marketed as an add-on to stop time-wasting sites from "leeching" the time out of your day, this extension can be used as a great parental control as well.
5. ProCon Latte Content Filter
If you're looking for an extension that will block sites entirely, ProCon Latte Content Filter is an extension that gets mad props for this ability. By entering a list of keywords, if your child tries to visit a site containing any of those keywords, the entire site will be blocked. A "Profanity Filter" is also included.
Abdullah is Founder of Worldfree and a passionate blogger.He loves new Gadgets and Tools. He generally covers Tech Tricks, Gadget Reviews, Games Reviews etc in his posts. Beside this, He also work as a SEO Analyst at Worldfree.